A HERITAGE OF DEDICATION TO EVERY ASPECT OF LANDSCAPE SERVICES
Few Florida landscape firms have the longevity, the dedication and the commitment of Rood Landscape. Since 1946, the company has been more than a collection of landscape architecture designers, project managers, technicians and installers. We are a company that nurtures relationships and much as is it does the communities, commercial businesses and homeowners that we bring into our family.
It all started with the wonderful success story of our founder, Roy S. Rood
Mr. Rood's story is one of ingenuity, perseverance and the joy of doing a job right. Mr. Rood began with helper a '41 Pontiac and a surplus wheel Barrow. He took jobs that, at the time, nobody else wanted – like removing a poorly placed bamboo tree. He felt great personal satisfaction in the smallest job. And realized that he could make a living out of this passion.
Focusing on small landscape projects and hardscape services, Mr. Rood converted a surplus Army truck into a dump truck to haul sand and gravel to construction sites in the booming neighborhoods of Tequesta and Jupiter, Florida. That truck was converted into a tree service crane following the devastation of the 1949 hurricane that ripped through Palm Beach, Martin and St. Lucie counties.
In the 1950s, the company's business accelerated and the company established its base of operation on the Palm Beach County/Martin County line.
The business landscape has changed dramatically since the 50s. Rood Landscape developed expertise in landscape installation, landscape maintenance, tree services, lawn and ornamentals, pest control, weed control and irrigation services.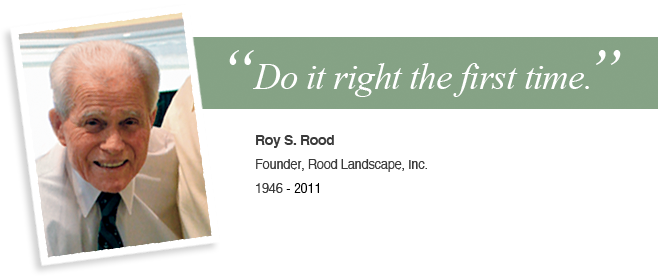 Complete landscape service for South Florida
You'll find every aspect of commercial landscape services and residential landscape services under a single, welcoming canopy:
Complete landscape installation
Landscape maintenance, including care for lawns and ornamentals, permanent structures and hardscaping
Environmentally sensitive weed and pest control
Landscape lighting and other "landstyling" services
Tree services, including planting, pruning, fertilization and removal
Irrigation services
//

Rood Landscape is not for everyone.
It's for those who appreciate the value of service in landscape installation, landscape maintenance,
tree services, pest control, weed control and irrigation services.